Upcoming Appearances
2018
Artist Alley Live at the Blue Box, Blue Box Cafe, Elgin, Illinois, February 10, 2018, 1 PM-5 PM CST
Anderson's Children's Literature Breakfast, Bobak's Signature Events – 6440 Double Eagle Dr, Woodridge, Illinois, February 24, 2018, 8 AM-12PM
Wizard World Cleveland, Huntington Convention Center, Cleveland, Ohio, March 2-4, 2018
Schaumburg Library Con, Central Library, 130 South Roselle Road, Schaumburg, Illinois, March 10, 2018, 12 PM – 4 PM CST
Indiana Comic Con, Indianapolis, Indiana, March 30-31, April 1, 2018
Chicago Comics & Entertainment Expo, Chicago, Illinois, April 6-8, 2018 Jim will participate on several panels and appear in Artist Alley.
CAPS Superhero 5K Run, Downtown Elkhart, Indiana, April 28, 2018, 8:30 AM. Jim will be doing free sketches for kids!
Free Comic Book Day at Secret Door Games, 215 S Main St, Elkhart, Indiana, May 5, 2018
Cherry Capital Con, Traverse City, Michigan, May 25-27, 2018
Mishawaka Library Comic Con, Mishawaka, Indiana, June 9, 2018
Denver Comic Con, Denver, Colorado, June 15-17, 2018
Monroe Comic-Con, MB&T Expo Center, Monroe, Michigan, September 15, 2018
Monster Comic Con, Century Center, South Bend, Indiana, October 20, 2018, 10 AM – 6 PM
More to come!
Request an Appearance
Would you like Solution Squad to have a presence at your comics or educator event?
Click Here to contact Jim!
Please include the name, dates, and location of the event. Generally, the more information about what it is and what you are looking for, the better!
Jim is an engaging public speaker regardless of the age of the audience. He reaches his audience on their level, no matter what the level is.
He is based out of Osceola, Indiana, just outside of South Bend, and has driven as far as New York to speak.  Here are some photos to give you an idea of the breadth of Jim's speaking experience: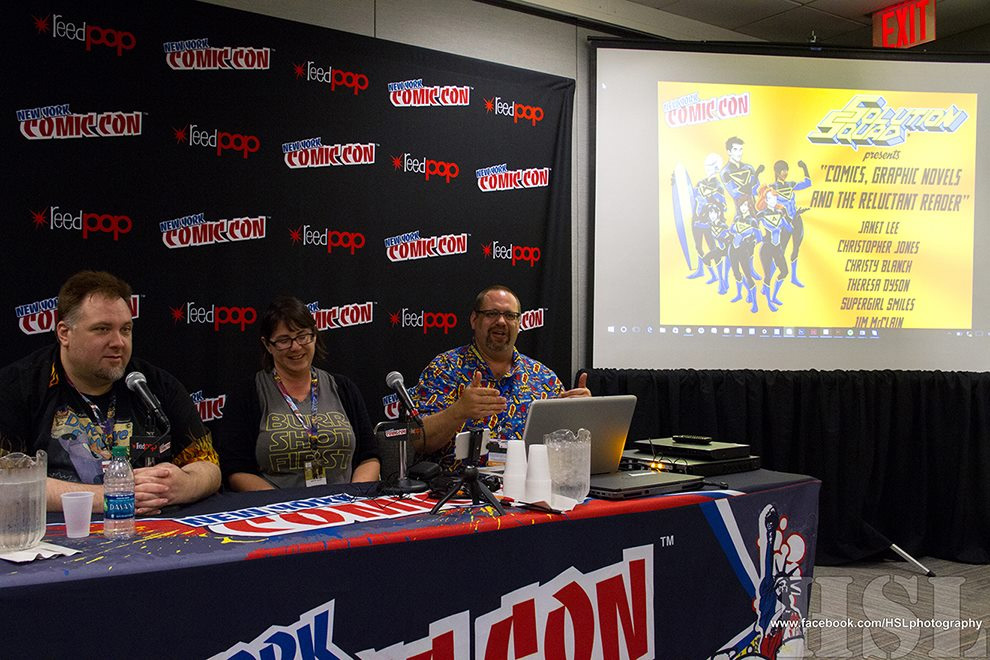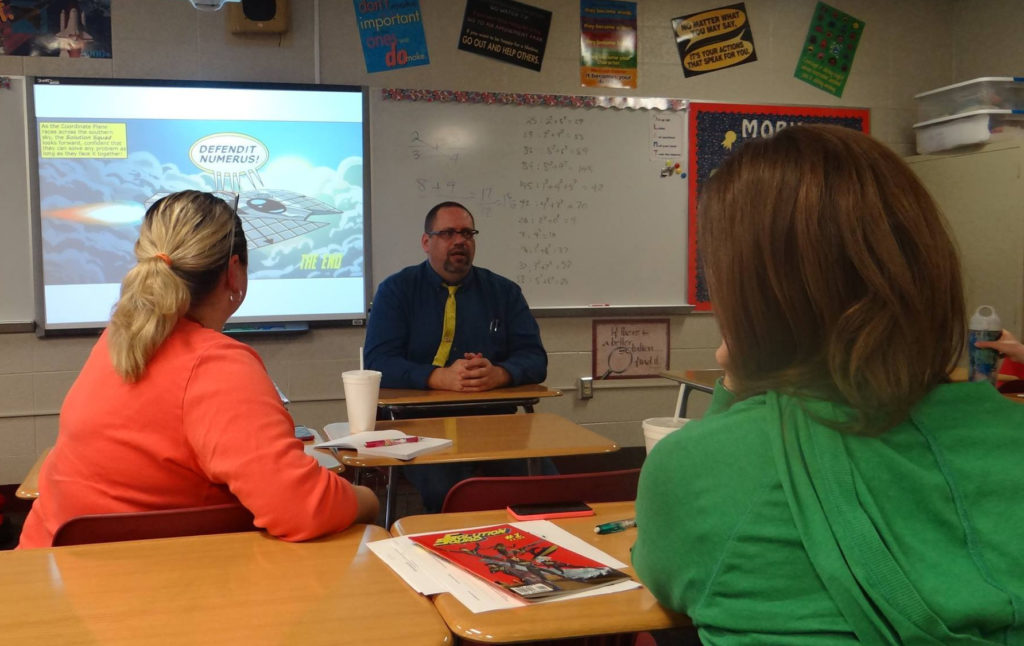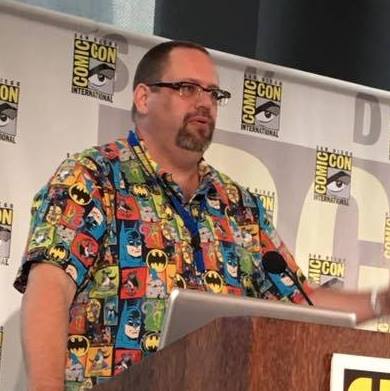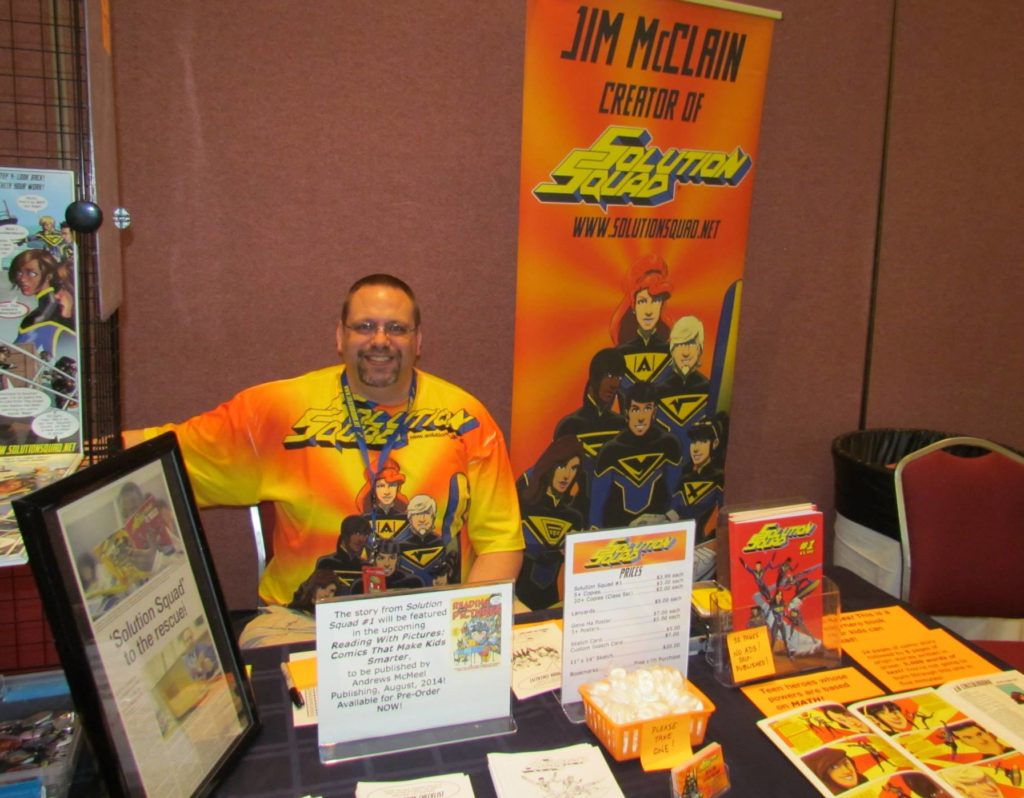 Past Appearances
2012
2013
2014
Northwest Indiana Comic Con, Schererville, Indiana, February 23, 2014
Dan Con Spring, Orland Park Civic Center, Orland Park, Illinois, March 23, 2014 (with Reading With Pictures)
IndyPendent Show, Radisson Hotel and Convention Center, 2500 S. High School Road, Indianapolis, Indiana, March 30, 2014
Chicago Comics & Entertainment Expo, McCormick Place, Chicago, Illinois, April 25-27, 2014 (with Reading With Pictures)
Appleseed Comic Con, The Grand Wayne Center, 120 West Jefferson Boulevard, Fort Wayne, Indiana, May 17-18, 2014
C4 Cherry Capital Comic Con, Grand Traverse Resort, Traverse City, Michigan, May 23-25, 2014
Indy PopCon, Indiana Convention Center, Indianapolis, Indiana, May 30-June 1, 2014
Kids Read Comics, Ann Arbor District Library, Ann Arbor, Michigan, June 21-22 (with Reading With Pictures)
American Library Association Annual Conference, Las Vegas Convention Center, Las Vegas, Nevada, June 26-28, 2014
Comic Book Mania Convention, Gail Borden Public Library, 270 N. Grove Avenue, Elgin, Illinois, July 19, 2014
Niles District Library Comic Con, 620 E Main St., Niles, Michigan 49120, August 30, 2014
Grand Con, Crowne Plaza Hotel Convention Center, 5700 28th Street SE, Grand Rapids, Michigan, September 20-21, 2014
Barnes & Noble, University Park Mall, Mishawaka, Indiana, September 27-28, 2014
New York Comic Con, Javits Center, New York, NY, October 9-12, 2014. Jim presented on two panels.
Kokomo-Con, Kokomo Event and Conference Center, Kokomo, Indiana, Saturday, October 18, 2014
IndyPendent Show, Radisson Hotel and Convention Center, 2500 S. High School Road, Indianapolis, Indiana, November 16, 2014
2015
American Library Association MidWinter Conference, Sunday, February 1, 2015. Session: Making Educational Comics: Why Should the Pros Have All the Fun?
Michigan State University Comics Forum, Michigan State University, East Lansing, Michigan, February 21, 2015
Panel: Comics Education Roundtable, with Josh Elder and Jerzy Drozd, 12:15 PM
Kids Read Comics Convention, Ann Arbor District Library, Ann Arbor, Michigan, June 20-21, 2015
Comic Book Mania Convention, Gail Borden Public Library, 270 N. Grove Avenue, Elgin, Illinois, July 18, 2015
German Township Branch of the St. Joseph Library, Saturday, August 8, 2015. Storytelling with Gene Ha and Rose McClain
IndyPendent Show, Radisson Hotel and Convention Center, 2500 S. High School Road, Indianapolis, Indiana, November 15, 2015
2016
Chicago Comics & Entertainment Expo, Chicago, Illinois, March 18-20, 2016.   Jim participated on a panel called Content Literacy: Teaching STEM with Comics on Friday, from 1:45-2:45 PM, and Secrets of Sustainable Self-Publishing on Sunday from 1:15-2:15 PM
Captain America 75th Anniversary Celebration, Hall of Heroes Super Hero Museum, Elkhart, Indiana, May 14, 2016
Barnes & Noble/SJCPL Creators Workshop & Book Signing, Barnes & Noble, Mishwaka, Indiana, Friday, May 20, 2016, 6-8 PM
SJCPL Creators Workshop, St. Joseph County Public Library Main Branch, South Bend, Indiana, Saturday, May 21, 1-3 PM
Comic Book Mania Convention, Gail Borden Public Library, 270 N. Grove Avenue, Elgin, IL, July 16, 2016. Hours: 10am-5pm; admission is FREE.
Comic-Con International, San Diego, California, July 20-24. Jim will participate in two panels, Teaching STEM with Comics and Solution Squad: Teaching Math through Comics, both on Saturday, July 23, from 1-3 PM.
New York Comic Con, New York, NY, October 6-9, 2016. Jim presented on two panels, Using Comics and Graphic Novels to Teach STEM, and Using Comics and Graphic Novels to Engage the Reluctant Reader.


2017

Barnes & Noble Educator Brunch and PGP Workshop, Barnes & Noble, Mishawaka, Indiana, January 14, 2017
Michigan State University Comics Forum, Michigan State University, East Lansing, Michigan, February 25, 2016
Comic Con Barrington, Barrington Area Library, Barrington, Illinois, March 5, 2017
Indiana Comic Con, Indianapolis, Indiana, April 14-16, 2017. Jim will be presenting all three days.
Chicago Comics & Entertainment Expo, Chicago, Illinois, April 21-23, 2017. Jim will participate on several panels.
Cherry Capital Con, Traverse City, Michigan, May 26-28, 2017
Wonder Woman Day, Hall of Heroes Superhero Museum, Elkhart, Indiana, June 3
Ann Arbor Comic Arts Festival, Ann Arbor, Michigan, June 17-18, 2017
U93 Roofsit, Heritage Square Martin's, Granger, Indiana, June 22, 2017, 5:00 PM-8:30 PM.
American Library Association Annual Conference, McCormick Place, Chicago, Illinois, June 23-26, 2017
 Comic Book Mania Convention, Gail Borden Public Library, 270 N. Grove Avenue, Elgin, IL, July 15, 2017. Hours: 10am-5pm; admission is FREE.
Solution Squad Signing and Educator Workshop, Aw Yeah Comics, Muncie, Indiana, July 19, 2017 3 PM-6 PM.
Solution Squad Signing and Book Fair, Barnes & Noble, Mishawaka, Indiana, July 29
Purdue University Seminar/Imagination Station appearance, West Lafayette, Indiana, October 13-14, 2017. Jim will be presenting to engineering and math education students as well as children at the Imagination Station.
Kids Read Comics-Chelsea, Chelsea District Library, Chelsea, Michigan, October 21, 2017, 10:00 AM-4:00 PM
Comics at the Blue Box, Blue Box Cafe, Elgin, Illinois, November 4, 2017
Indiana Council of Teachers of Mathematics Fall Conference, Indiana Marriott East Hotel, Indianapolis, Indiana, November 5-6, 2017. Jim will be presenting.
Pop Culture Classroom Book Signing, Barnes and Noble, Orland Park, Illinois, December 3, 2017